Our Firm Overview
In 1944, Thomas Saltmarsh, Harold Cleaveland and Charles Gund pooled their talents and modest resources to form a partnership for the practice of accounting. Their success was attributed to their guiding principles of honesty and integrity, accuracy and thoroughness, quality client service and most importantly, the belief that service to the community is an individual, as well as a corporate, responsibility.
Today, Saltmarsh offers a full range of professional services from accounting and taxation to consulting in many specializations - all based on the Firm's mission statement and core values:
"Achieving Success by
Contributing to the Success of Others"
"Integrity and Honesty, Respect,
Creativity and Quality Service"
What Sets Us Apart
With offices throughout Florida and Nashville ,Tennessee, Saltmarsh combines the personal attention and access of a hometown firm with the diversity of services and depth of experience of a much larger one. Serving clients throughout the U.S., Saltmarsh provides the advantages of both.
While it is true that many Saltmarsh clients have spent their entire economic lives with the Firm, many more have recognized their potential for growth and look to Saltmarsh for assistance and guidance. They understand that stability, continuity and dependability are the critical ingredients responsible for the firm's excellent personal service.
---
Global Reach with Regional Focus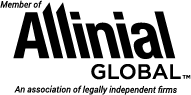 As members of Allinial Global, we have access to industry-specific expertise of accounting and consulting professionals around the world.
Allinial Global is an association of accounting and consulting firms whose members reinforce client service by exchanging expertise, resources and advice in a wide range of industries. Founded in 1969, Allinial is one hundred members strong and growing, with locations throughout the US, Canada, Mexico, Caribbean and the larger world generating approximately $1.6 billion in collective revenues. This global reach helps us serve our clients' business needs throughout the world.
Most important, though, is the shared Allinial Global commitment to provide the most client-centric service possible. When needed, we have the ability to leverage our membership in order to find not just an adequate solution to your business needs, but the best-in-class solution anywhere in the world.