An Important Resource from the FDIC
7/2/2019 - By Janet Munns, CRCM
For those of us "Compliance Geeks," the recent release of the FDIC's June 2019 Consumer Compliance Supervisory Highlights publication is like getting the very first copy of the newest book on the Best Seller list. Resources like this are of great value to the industry, especially community banks who may have more limited training and regulatory resources. We hope the FDIC will continue to publish these Highlights on a regular basis in the future.
The information provided in this first issue relates to the FDIC's consumer compliance supervision activities for 2018 and provides a high-level overview of issues that were identified through approximately 1,200 consumer compliance examinations.
Based on this information, FDIC supervised institutions are performing compliance duties well, with 98% receiving satisfactory ratings. Those institutions rated less than satisfactory typically demonstrated weaknesses in the institution's overall compliance management system.
Even with most institutions effectively managing their consumer compliance responsibilities, there were still several issues identified. Some of the more prominent issues identified were related to Overdraft programs, RESPA, Regulation E, Skip-A-Payment loan programs and Lines of Credit.
The report identifies the most frequently cited violations in the chart we have included below. It focuses on Level 2 and Level 3 violations. Note that Level 2 violations relate to issues of Medium severity, that can go on to become Level 3 violations if left unchecked. Level 3 violations relate to High severity issues that may require restitution of over $10,000.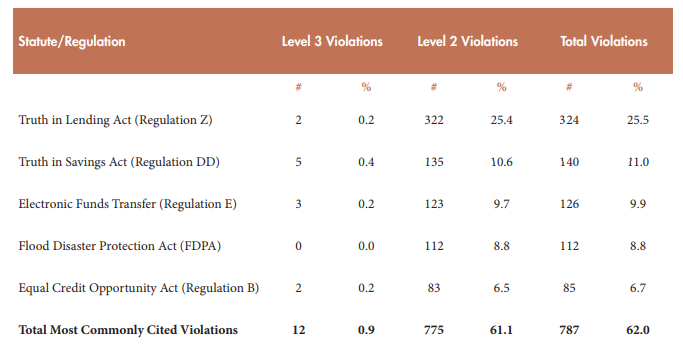 Although there are several violations related to lending regulations, it appears that deposit related regulations are making a comeback, despite not having any significant regulatory changes within recent years. We believe that as institutions develop new products, the research and development phases must be tended to carefully, to ensure that disclosures are updated accurately and that those core systems are properly tested prior to implementation. It's often said that it takes a village, and compliance is one of those areas where we need everyone in the village working together.
About the Author | Janet Munns, CRCM
Janet is a consultant in the Financial Institution Advisory Group of Saltmarsh, Cleaveland & Gund. She has more than thirty years of diverse banking experience specializing in loan compliance reviews, secondary market lending operations internal audits and HMDA data integrity reviews. Connect with Janet.
---
Related Posts