Dimensional Ranked #1 in Barron's Best Fund Families of 2022
3/15/2023
Barron's has named Dimensional Fund Advisors #1 in the outlet's "Best Fund Families of 2022" list. The rankings look at the one-year records of how each firm's actively managed funds performed vs. peers, based on data from Refinitiv Lipper.
"Dimensional is known for its roots in academic research on factor investing, particularly involving value investing, and its tendency to favor smaller companies that are highly profitable," the outlet noted. "As such, the firm sidestepped the meltdown in mega cap growth names and companies with few, if any, profits."
Barron's also commented on how Dimensional keeps close tabs on equity premiums through daily price information. The firm's managers watch for buying opportunities when growth stocks fall into value territory, and they also rely on factors such as momentum to help determine if it's time to buy.
Dimensional is No. 17 on Barron's "5-year Ranking" of fund families and No. 7 on its 10-year list, the longest time horizon included.
"While nobody can control markets, we can control how we harness them," said Bryce Skaff, Co-Head of the firm's Global Client Group. "We've taken a consistent approach to designing and managing investment portfolios for more than 40 years. We'll continue to pursue long-term drivers of expected returns so we can work toward delivering reliable outcomes for our clients and investors."
Barron's subscribers can read more about this year's rankings and methodology here.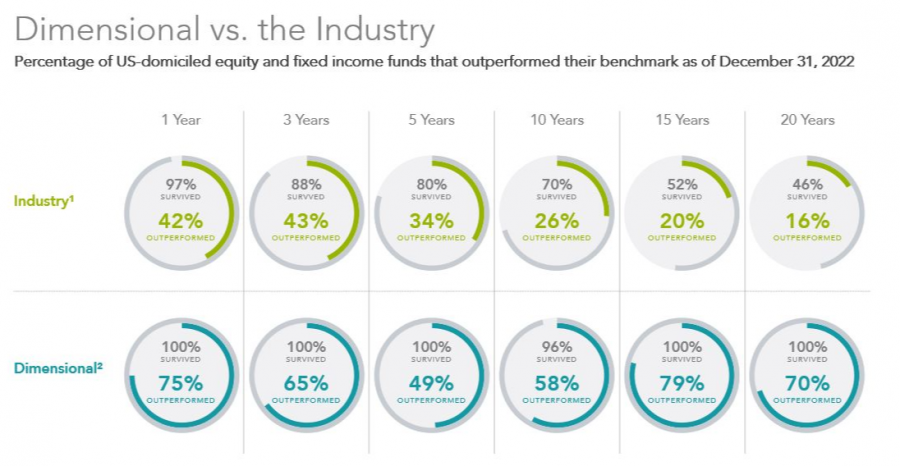 Performance data shown represents past performance and is no guarantee of future results.
About Dimensional Fund Advisors (DFA) & Our Partnership
DFA is a privately held institutional investment firm that has over $586 billion of assets under management. DFA seeks to add value by building portfolios that target higher expected returns in a cost-effective manner. Their investment philosophy is guided by the belief that capital markets are efficient, and these beliefs are backed by decades of Nobel Prize-winning academic research.
"The 28-year relationship between Saltmarsh and Dimensional Fund Advisors is grounded in a shared investment philosophy and a strong focus on assisting clients realize a successful investment experience," said Saltmarsh Financial Advisors Managing Director, Christina Doss, AAMS. "Saltmarsh's ability to provide broadly diversified portfolios based on our clients' risk tolerance, combined with Dimensional's strategic and systemic approach to achieving higher expected returns, has proven to help clients tune out noise and take the emotions out of investing. We are very pleased and proud to see Dimensional receive this well-deserved recognition!"
Saltmarsh Financial Advisors is proud to offer our clients a low-cost, tax-efficient and principled investment offering through our partnership with Dimensional Fund Advisors. To learn more about our investment management services and philosophy, please visit www.saltmarshfa.com.
---
Related Posts