New Federal Reserve Guidance For The Main Street Lending Program
5/3/2020 - By Saltmarsh, Cleaveland & Gund
The Federal Reserve has issued further guidance and eligibility requirements surrounding its Main Street Lending Program (MSLP) announced on April 9. The MSLP aims to increase the flow of credit to small and medium-sized businesses that were in good financial standing prior to the COVID-19 crisis. As previously reported, the Federal Reserve sought feedback by April 16 from the public on potential refinements to the initial program details. In response to the more than 2,200 letters received, the Federal Reserve decided to expand the MSLP loan options available and modified eligibility requirements to extend the program to a greater number of affected businesses.
Notable changes to the MSLP include the following:
Creation of a third loan option, the Main Street Priority Loan Facility (MSPLF), requiring increased risk sharing by lenders for borrowers who are more leveraged.
Decreasing the minimum loan size for some programs to $500,000.
Offering more options to a wider set of eligible small and medium-size businesses who may qualify.
Key Eligibility Criteria and Loan Details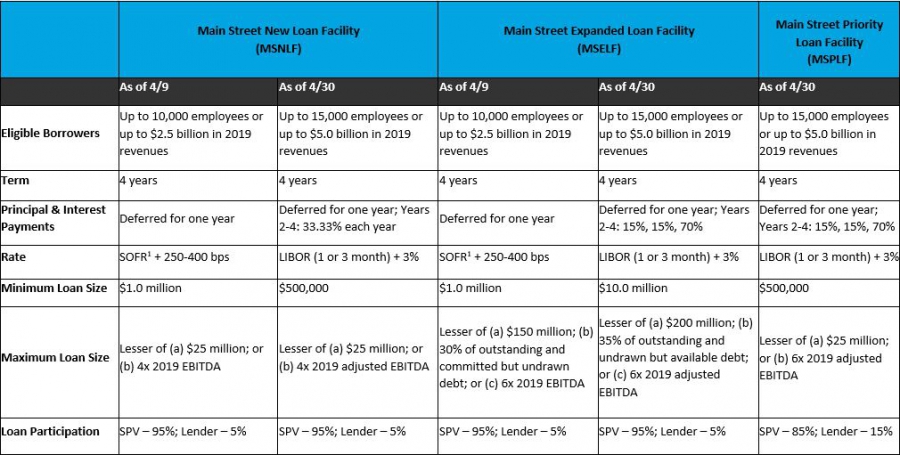 Detailed descriptions of all changes and modifications to each MSLP program are available via term sheets and an FAQ published by the Federal Reserve:
How to Apply
While an application has not yet been made available by the Federal Reserve, it has stated that "eligible borrowers should contact an eligible lender for more information on whether the eligible lender plans to participate in the program and to request more information on the application process." The program start date will be announced soon. Please refer to the Federal Reserve's Main Street website for the latest program information.
QUESTIONS?
If you have specific questions, please reach out to your engagement shareholder, manager or another member of our team. General questions and inquiries can be directed to Jayme Terrell.
Visit our COVID-19 RESOURCE HUB for ongoing updates and information. Due to the ever-changing nature of this event, you should always consult a professional.
---
Related Posts